Gunshy of the Shootout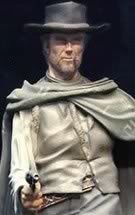 It was 6-6, Leafs-Devils, and on the television, another fruitless scoring chance was dissolving in the dying moments of the game. My brother-in-law Vanny began to squirm around in his seat.
"Oh,
right there!
Skate, you retard!" he screamed at the TV set.
The horn blew, signaling the end of the overtime period, and the cameras panned over the coaches, who were sucking on their pens, frowning intelligently at their shootout lists. Hmm, who to pick. How hard can this be? You just list your three best guys, and say, go get 'em champ.
"Frigg. Not another shootout. I hate this rule. We're toast for sure," Vanny moaned, hiding his face.
"Toronto took out Florida the other night in a shootout," I said.
"Yeah, but that was just
Florida
. They're
useless
. Montreal beat us the game before that. I can't believe this, three straight shootouts."
I was trying to stay positive, but I saw it the same way. I've been conditioned to hate shootouts by a humiliating Olympic loss ("What the - Crawford picked Ray Bourque over Wayne Gretzky?! On a shootout, he picked a
defenseman
over the
greatest scorer who ever lived
?!), a conservative hockey media, ("Shootouts will ruin the game!"), and the Leafs' own ineptitude at them last year. In 2005-2006, Toronto finished 3-7 in games decided by shootout. You're thinking, well, that's not so horrible. It wasn't the worst in the league, after all, and a lot of teams had trouble with it. Except - Toronto scored a total of FOUR goals in those shootouts.
Dead last in the league.
A brief reminder: Picture this in your mind. A goalie stretching in the crease for the shootout attempt, and then remember what Jason "Rocket" Allison looked like when he struggled to "deke" any goalie last season.

Jason Allison.
The fastest
beard-grower
who ever lived.
"It's like this," Vanny complained, gathering steam. "We stunk at the shootout last year. We had guys like Sundin, Allison, Lindros, taking our shots. This year, Toronto faces division rivals eight times each. So, Ottawa: Heatley, Alfredsson, Spezza. Buffalo: Briere. Afinogenov. Drury. Those guys skate like ninety. Who else? Montreal?
Built
for the shootout, man. Kovalev. Samsonov. Higgins, Ryder. We've got Sundin, and that's it. Tucker and a few other guys have okay shots, but they don't scare anybody. We need guys with moves. Or else we'll get creamed all year."
I thought about Alexei Kovalev, remembering a shootout I saw last season. The crowd, hushed. Kovalev, skating vacantly to the crease, so slick and sure and confident, so unlike the enthusiastic, chugging Canadian skating style I'm accustomed to. A Soviet Hockey Terminator, built in a Siberian lab, who froze the goaltender with deadly Commie Vision before he robotically bullwhipped a wrist-shot into the top shelf, the puck dropping like a turd beneath the terrified goalie. Game over.
I shuddered. Vanny was right, Toronto has nobody like that. Just Sundin. Sundin, and a team of anonymous guys who might pull off a lucky backhand once or twice, but for the most part, can't stickhandle their way out of a paper bag.
How long is it going to be before teams begin to carry a shootout specialist on their rosters? It sounds ridiculous. But in all seriousness, Toronto should attempt to get ahead of the curve for once and find a guy like that. I don't care how good he is in any other facet of the game – premium shootout capability comes first, and if they can play a little on the fourth line, fine, take that as a bonus. Goons have been taking up roster spots for generations – what's the difference? There are probably dozens of tricky guys who have a pocketful of moves, guys who spent their entire development working on shifty plays they'd never use in a live game because they ignored the fundamentals. Guys who have "no hockey sense" or who "can't play without the puck." How many times have we heard that about some guy who can dangle the puck for about five eye-popping seconds a game, but does nothing else? Guys who only practiced the hotdog moves and breakaway attempts, because they are the glory plays, the kind that win imaginary Stanley Cups on backyard ponds. How different would it be to keep a player like this around instead of a fighter? Who brings more to the team?
Last season, the Dallas Stars led the league with twelve shootout wins and one loss. Those twelve extra points elevated Dallas into 2nd place in their conference - without them, they would have only scraped into the playoffs.
Also, Dallas scored twenty-four shootout goals, with ten of them - a monstrous forty-two percent - potted by Jussi Jokinen, which happened to lead the league in this category. All by himself, he scored 2.5 times the number of goals Toronto managed as a team last year. Talk about holding pocket aces. It's possible to argue Jokinen was personally responsible for ensuring the Stars' playoff seeding last season. How many other skaters can be pointed to as a direct contributor to a teams' position in the standings?
It's a new game now, and fighting is disappearing around the league. I never thought I'd see the day, but some teams don't even carry a designated enforcer anymore (and - it's debatable that Belak actually fills this role for Toronto). Special teams, systems, and shootouts are what matter the most now to team success. With the salary cap enforcing an increasingly evident level of parity across the league, the shootout will become less of a gimmicky show-stopper, and more of a critical game aspect that can make or break a season. Instead of playing for the win, it's possible that a team like Dallas might even attempt to engineer a shootout, knowing that they had a 92% success rate at them the year before. If you're the Dallas coach, and it's the overtime frame, you tell me what you're going to do.
Toronto missed the playoffs in 2005-2006 by two lousy points. Edmonton squeaked in, and came within one game of taking home the Cup, injured goalie and all.
So I ask again – what kind of player would be more important to a hockey team?
"…Ponikarovsky with the backhand – misses wide,"
said Joe Bowen on the TV.
"Yargh. My Little Poni," Vanny griped. Leafs lose: 7-6, in the shootout.
Who will become Toronto's shootout gunslinger?
[Edit: I don't believe it! Seconds after I post this, I read that

somebody already wrote about this today

!]